Week 2 Meal Plan - New Year, New You
Day 1
Breakfast
30g low-fat cereal (e.g. Special K) with 5 sliced strawberries, 120ml low-fat milk and 1 tsp flaked almonds. 200ml glass of orange juice.
Snack – Fruit salad made with 10 grapes and 1 kiwi, chopped
Lunch – Turkey & Relish Sandwich
Spread 2 slices of multigrain bread with 1 tbsp cranberry or tomato relish. Top with 1 lean slice of turkey and some shredded lettuce, chopped tomato & slices of red onion. Serve with extra salad on the side.
Snack – 1 pot natural yoghurt (125g) with handful of fresh blueberries.
Dinner – Tuna with haricot beans, tomatoes & chilli
Fry ½ an onion in 1 tsp olive oil. Add 1 crushed clove of garlic & 2 tsp chilli powder. Stir in 100g tinned tomatoes, 100g tinned haricot beans (drained & rinsed), 1 small tin of tuna (drained) & 1 tsp each of dried parsley & oregano. Cook until the beans are heated through and serve hot with a small ciabatta roll, warmed.
Day 2
Breakfast – Scrambled egg
1 whole egg & 1 egg white, scrambled, with 1 warmed wholegrain roll spread with 1 tsp low fat spread served with 1 grilled tomato
Snack – 2 tbsp reduced-fat houmous with celery and carrot sticks.
Lunch – Baked sweet potato
1 sweet potato (180g) baked in the oven and topped with 30g low fat coleslaw and 30g low fat grated cheese. Serve with a mixed salad.
Snack – 1 pear
Dinner – Sweet Chilli Stir-Fry
Stir-fry 1 packet of ready-prepared stir-fry vegetables with 1 tsp olive oil. Add 20 small fresh prawns (or 1 chopped chicken fillet) and 3 tbsp chilli sauce. Serve with 3 tbsp cooked brown rice.
Day 3
Breakfast – Banana Bagel
1 multigrain bagel, toasted, spread with 2 tsp low fat spread and topped with 1 medium chopped banana.
200 ml glass of orange juice
Snack – 1 pot of probiotic fruit yoghurt (125g)
Lunch – Minestrone Soup
300g bowl of minestrone soup, with 4 wholegrain crackers & 30g reduced-fat cheddar.
Snack – Fruit salad with ¼ chopped mango, 1 kiwi & 1 mandarin orange.
Dinner – Homemade Turkey Burger
Mix 120g minced turkey with quarter each of chopped red onion & red pepper. Add 1 tbsp fresh parsley, 1 tbsp breadcrumbs and half an egg white. Shape into a burger shape and grill for 5-7 minutes on each side or until cooked through. Serve with 1 baked sweet potato and steamed mangetout.
Day 4
Breakfast – Apricot & walnut porridge
Soak 30g porridge oats overnight in 50ml skimmed milk with 2 chopped dried apricots. The next day, make up the porridge with water to your preferred consistency. Top 1tbsp chopped walnuts before serving.
Snack – 2 ryvita with 1 tbsp reduced-fat houmous
Lunch – Salmon Salad Roll
Mix 60g tinned salmon, drained with 1 tbsp extra light mayonnaise. Use to fill 1 small granary roll along with some chopped tomatoes, cucumber and rocket or spinach leaves. Followed by 1 pot of probiotic fruit yoghurt (125g)
Snack – 1 apple
Dinner – Ginger beef stir-fry
Thinly slice a 90g fillet of beef. Heat 1 tsp olive oil in a wok and fry ½ a chopped onion. Add the beef and stir-fry until cooked to your liking. Remove to a warmed bowl. Add another 1 tsp of oil to the wok and stir-fry ½ a sliced red pepper, handful of mangetout and baby corn, ½ a finely sliced carrot & 1 inch piece of ginger, grated. Add back in the beef and onion and stir in 2 tbs sweet chill sauce. Serve with 60g cooked egg noodles.
Day 5
Breakfast – Fruity Weetabix
2 Weetabix with handful of blueberries or raspberries (frozen are fine) and 120 ml low-fat milk.
Snack – 2 wholegrain crackers with 2 tbsp low-fat cottage cheese & handful of grapes
Lunch – Creamy Basil Pasta
Mix 60g cooked pasta (20g uncooked weight) with 2 tbsp extra light cream cheese. Add 6 chopped cherry tomatoes, some torn basil leaves and a squeeze of fresh lemon juice. Serve warm or cold, sprinkled with 1 tbsp sunflower seeds.
Snack – 200ml orange juice. 1 tbsp sunflower seeds
Dinner – Mushroom & Pepper Omelette
Fry 50g chopped mushrooms, ½ red pepper, finely chopped until softened. Add 2 beaten eggs and 1 tsp mixed herbs. Continue to fry over a low heat until cooked. Serve with steamed green beans.
Day 6
Breakfast – Greek Yoghurt Crunch
Mix 30g porridge oats with 125g low-fat Greek yoghurt. Top with 2 tsp honey and 1 tsp chopped almonds.
Snack – Handful of fresh strawberries or frozen raspberries mixed with 1 chopped fresh orange.
Lunch – Vegetable & Bean Soup
300g bowl of vegetable & bean or lentil soup, with 1 slice granary bread toasted, spread with 1 tbsp hummus.
Snack – 200ml glass of low-fat milk & 1 small banana
Dinner – Cajun chicken burger
Coat 1 chicken fillet (90g) with 2 tsp cajun spice. Grill the chicken until cooked through. Meanwhile, mix a handful of shredded lettuce & 1 chopped tomato with 1 tbsp low fat dressing. Toast 1 large wholemeal pitta & fill with the salad & sliced, warm chicken.
Day 7
Breakfast– Banana Berry Smoothie
Smoothie made with 80g frozen berries, 1 small banana and 200ml skimmed milk.
Snack – 1 pot of probiotic fruit yoghurt (125g) with 1 tbsp sunflower seeds
Lunch – Cheese Toastie
Spread 2 slices (30g) each granary or wholegrain bread with 1 tbsp tomato chutney or relish and 1 small sliced tomato. Top with 30g reduced-fat cheddar and grill until melted.
Snack – 1 pear
Dinner – Roast lamb with butternut squash
Cube 90g butternut squash. Add to a roasting tin with ¼ a red pepper, ½ an onion, 1 stick of celery, 1 small courgette all chopped into similar sized pieces. Drizzle with 2 tsp olive oil & some torn fresh basil, & toss to coat. Roast until soft and serve with 120g lean roast lamb.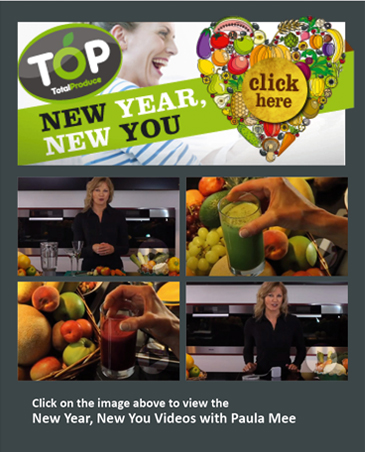 ---
---
Add your Comment